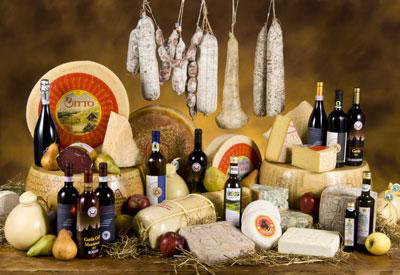 Back to Cervia Products and Flavours of the Italian regions in June, in Piazza Andrea Costa. The event is promoted by Ascom Confcommercio Ascom Cervia Cervia and the Italy srl, in association with FIVA Confcommercio-Italian Federation of hawkers and FIPE-Italian Federation of public establishments and Federalberghi Cervia. More than 100 street traders with the best typical regional productions along with some reputable restaurants cervesi that will offer tastings of traditional local dishes.
The event aims to especially promote tourism allowing everyone to get to know the culinary traditions of our country to the public of Italian and foreign tourists present for the occasion.
Confcommercio Ascom Cervia Italy hopes to continue the strategy of integrated tourism system that offers the best land resources with a special focus on the "made in Italy". Operators who will present their proposals to the public, were selected according to the quality of individual deals and variety in aggregate. You will pass by the Ligurian pesto or spicy calabrese sausage to Sicilian cannoli.
An event that deserves to be lived in full flavor, to be reserved for theHotel Cervia. The family hotel are ideal for the family holiday but also with friends, offers maximum hospitality and helpfulness, tailored services and comfort both in the hotel and in the room. The cheap hotelsoffer solutions for all, special prices and formulas Hotel all inclusive where all services are included in the price, including beach service,hotel near the beach, and drinks or by the pool. The hotel with pool they are hotel for childrenbut also romantic hotels with Jacuzzis enhance relaxation and fun in the hotel for everyone. The hotel near the sea offer rooms with sea view balcony where you can admire romantic sunsets and live the best holiday!