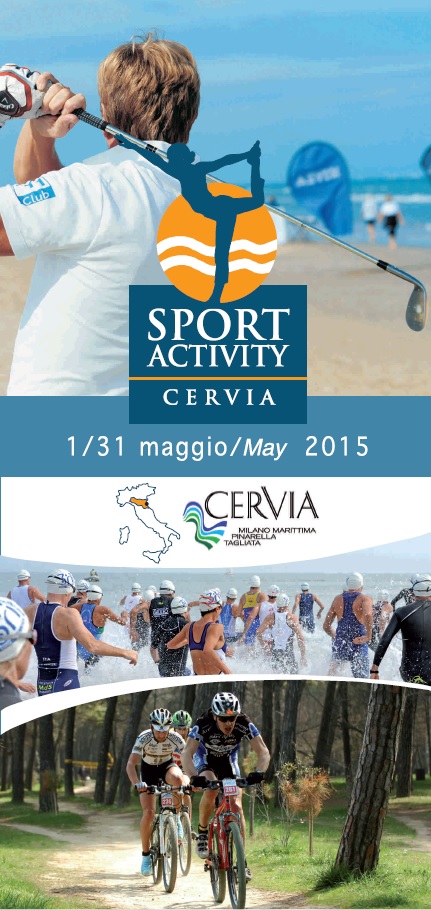 Throughout the month of may, you are invited to Sport Activity Cerviathe special exhibition dedicated to sport and its many disciplines. Between Cervia and Milano Marittima, this special month of may will be the best sport with lots of opportunities for all, to succeed in their sport, and to know the beautiful area surrounded by nature. The program is packed with many exciting events that will allow you to participate in disciplines such as cycling, karting, sports, archery and other proposals, thanks to the participation of sports facilities in the area. Garibaldi Square location in Cervia. Here are some of the main events:
24 May: Open day Slowsport, free trials of tennis, sailing, mountain biking, nordic walking, canoeing, Spa relaxation.
From 24 to 31 October: Sport in spring, the week of beach volleyball clinic and tournament.
From 27 to 30 May: 45° national tournament Tennis.
May 30: Canoe appetizer salanti basins.
30 and 31 May: Water Sport water sports events, Festivals, music, skating, Minibikes.
31 May: Open Day Spas
This is also the ideal opportunity to ' to book your stay of relaxation and wellbeing in Hotel Cervia. The hotel near the sea they are ideal for any athlete, for those who enjoy jogging and water sports, but also for people who enjoy basking in the sunshine of the riviera, and for children who can play in total freedom and security. The family hotel welcome guests with custom formulas, for a holiday full of very interesting and affordable prices. The Hotel near the center are so comfortable to reach, close to the train station and all the bus companies, not only are ideal for walks, shopping, and for kids who love the nightlife. Thehotels near Wonderlandallows you to experience great adventure to the most famous Park in Italy and throughout Europe, and in addition to Mirabilandia, thanks to hotel close to the parks, you can also discover the Butterfly House and CerviAvventura.