The Rita Hotel Cervia is ideally located, very quiet but central a few meters from the sea and by 'beautiful Borgo Marina, the heart of Cervia button. L 'hotel in Cervia center is in fact about 100 mt from the sea and 50 meters from the road that runs along the port channel Cervia.
Rita Hotel is a family hotel in Cervia ideal being equipped with many multi-chamber large size, a parking and a big garden equipped with lots of games for the younger guests.
All the rooms with large balconies for the most part offer extraordinary view on
surrounding area of Cervia harbor channel and the beach. All have air conditioning and new bathrooms a hairdryer and shower cubicle.
Additional services are TV, telephone and safe. L 'hotel has a bar, large breakfast room and elevator Restaurant service is performed at the' hotel to the lighthouse that rises about 10 meters and with which shares the structure ' large garden.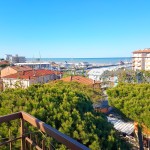 The menu 'carefully prepared by our chefs provides a choice of three different courses both for the first and for the second, large buffet of vegetables and appetizers. Fish every day and a large buffet breakfast with sweet and savory products n mostly produced at home.
Throughout the summer season are active agreements with Mirabilandia and beach clubs to guarantee our guests a holiday to 'teach relaxation and tranquility with a complete and transparent service.

Press the orange button to book now with Booking HOTEL RITA and have free drinks with meals